WHAT WOULD YOU DO WITH 3 WISHES?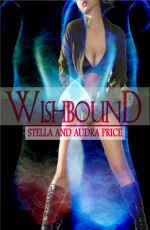 Janey Duvall is posed with that exact predicament when shes tricked into a bargain with a very sexy Djinn named Marsh, a man as irritating as he is intoxicating. Their adventures will leave you breathless and begging for more...
Continue the story in e book with
GIFTS
...
the third installment of the series... and be sure to MAKE YOUR WISHES... because sometimes its not the choices we make that decide our fate, but the choices others make for us.
*OH, and theres a contest running too! buy WISHBOUND from our publisher and send the receipt to stella@stellaandaudra.com with WISHBOUND CONTEST in the subject and you coule win a Tshirt, candle set, sterling silver charm and other one of a kind Djinn goodies from us!*Have a FANTASTIC week full of sizzling reads!
Stella and Audra Price
a series for EVERY obsession