We just got some FABULOUS news!
The Soft Edge of Midnight
won the
Reviewers Choice
award at Love Romances Cafe! Aud and I are beside ourselves with happiness, we were up against some stiff competition and heavy hitters so this is really an awesome award to win! thank you to those who nominated us and who voted for us! you guys mean the world to us!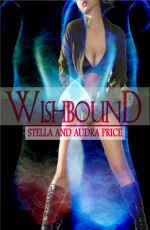 And we just found out that
WISHBOUND
placed in the
TOP TEN
at the P&E poll! it placed #3 on the Artwork poll and #8 on the book art poll! Thanks Again to everyone who voted for us! it rocked to place!
And... We have another book out for print preorder! our Short story
LADY LUCK
is now available in print in the Fantasies 2 anthology! Heres a Blurb:
Behind every great man, there's a woman. Men
that sit in seats of inscrutable power often have the women in their
lives to thank for the privilege, and these women are a force unto
themselves. As Jenai, a race of Female Genies, these women bring luck
and good fortune to the men in their lives. Once such Woman is Nina
Skye, a stripper. When she meets Jake, a sexy down on his luck grifter
and Opacus,a bargained shadow demon, the attractions fly. Jake is
beyond attracted to the sexy stripper, the exact woman he had been
going to see dance for a month straight. Little does he know this woman
is about to make all his wishes come true. She agrees to help him seek
his fortune. The Venue? The pit floor at the MGM grand. The game? the
international poker championship.

OOH and if you preorder a copy and send us the receipt at Stella@stellaandaudra.com Youll be entered to win a amazing pair of One of a Kind earrings, created JUST for the book in amber and Malachite and Silver!

Arent they Pretty? LOL. So Be sure to enter to win these awesome earrings!
Last but not least, We are nominated for several things at the
Ecata Sensual awards
this year and could really use your votes! Please pup by and vote for us! we would love you forever! thanks again!